SNOWSHOE THOMPSON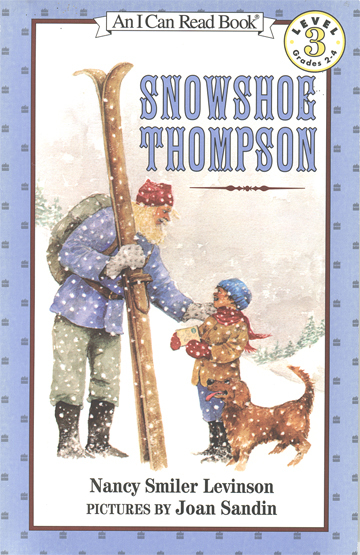 Starred Review, School Library Journal
Pick of the Lists (American Bookseller)
Notable Children's Trade Books in Social Studies (NCSS/CBC)
REVIEWS

(*starred) This fictionalized account of John Thompson's first winter trek across the Sierra Nevada in the mid 19th century will captivate many beginning readers. When mail delivery is halted because of heavy snows, Norwegian-born Thompson (one of America's skiing pioneers) volunteers to deliver a young California boy's letter to his father in Carson City, Nevada. The boy, Danny, helps him make a pair of skis - splitting and sanding the wood planks, boiling the wood, and shaping the tips. Sandin's watercolor illustrations add to the understanding and emotion of the easy-to-read text. The rugged appearance of the pioneers, the work involved in making the skis, and the developing friendship between Thompson and Danny are revealed through the artwork. The snowstorm, with its white and grays, dominates and blends the colors. Don't miss this warm bit of historic fiction set in a cold forbidding climate.
School Library Journal

Beginning readers are introduced to the history of skiing in America through this lucid, concisely written story. Danny misses Pa and writes a letter ("Are you still digging for gold in Nevada?") asking him to come home for Christmas. Hearing that there will be no mail because the deep snow has made it impossible to cross the mountains, Danny feels hopeless. John Thompson, a Scandinavian immigrant, steps forward and tells the boy, "There is a way." The next day John shows Danny how to make skis and shortly thereafter embarks on a 90-mile journey through the Sierra Nevadas. "You can count on me," he says. Sure enough, five days later, John returns with a letter for Danny from Pa. Cool, earthy tones spattered with white breathe life into Levinson's enlightening tale. A map and an informative author's note flesh out the book.
Ages 4-8.
Publishers Weekly

Based on a historical character, a Norwegian who came to 1850's California, a story about some of the earliest skis in the US. According to the author, "Snowshoe Thompson" used his skis to carry mail over the Sierra Nevada when the mountains were deep in snow. In Levinson's fictional story, Thompson manufactures his own skis after his young friend Danny learns that the mail service has stopped until spring; Danny is distressed because he was counting on getting a letter to his pa in the Nevada gold fields. Thompson carries the letter, brings back a reply, and hopes to go back for Pa, too--in time for Christmas. Older readers may wonder whether Pa will master skiing in rough terrain in time to make the journey; otherwise, an interesting vignette from the past. Sandin's cheerful, generalized illustrations, crisply silhouetted against the white pages/snow, add appeal.
Kirkus Reviews
Except for quoted reviews, all text and art copyright © Joan Sandin. All rights reserved.
No text or image may be reproduced without the express written consent of the author/illustrator.